Choreography fees for choreo. weekend # 3 ( Saturday , Jan . 21, 2023 and Sunday, Jan 22, 2023 ) were put on your accounts tonight. The will be due by Friday, January 20, 2023.
Attached is the practice schedule of routines that will be attending choreo weekend on January 21 & 22.
If your class is not on the schedule, it does not need extra practice.
All acro groups are practicing both days.
For team production please read carefully- there is 545-715pm Sunday where all ages are together than 3 other practice times before and after depending on your age level- if you are in parts in two different age levels you must come to both extra practices. Minis are only coming with the full group for 545-715pm. Oliver has a practice time of 4-430 alone to work on his individual part.
We have some exciting master classes opportunities coming up as follows.
Skoog will be having 2 contemporary master classes this Saturday January 10 ($40 per class)
2-330pm- ages 8-11
330-5pm- ages 12 and up
Miles Keeney will be doing jazz funk master classes on Friday February 10, 2022 ($40 per class)
430-530pm- ages 6-8
530-630pm- ages 9-11
630-730pm- age 12 and up
These master classes will be added into our guest instructor schedule later this evening to register for on line- you may also register at the front desk. Skoog's schedule for those who signed up for solo/duet critiques will also go out later tonight.
Sheri Daknis, TDC Studio Director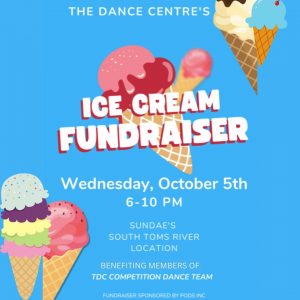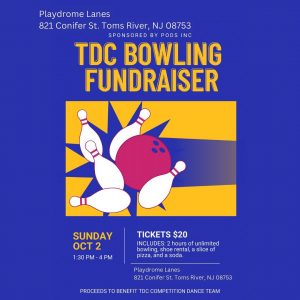 PODS has put together 2 fun & tasty fundraising events to help our Competition Team! We'd love to see you there!
Tickets for bowling can be purchased in the studio lobby Wednesday 9/21 6:00-7:30pm or email [email protected] to make other arrangements. Hope to see you there!
.
Here is a list of the competition and convention fees, mandatory and optional, with due dates for the 2022-2023 season.
Reminder competition contracts are due this Friday 9/23/22.
Solo contracts are required  with $150 choreo fee before your first practice can begin. Schedules will start to go out late next week.
Liability waivers as of aug 1, 2022 required for the new season.
Choreo weekend changes:

Times typed wrong
Pet lyrical should be Sun 1015-1045
JR hip hop should be Sat 4-530pm
Acro JR/Pre-teen will be Sunday 8-11 instead of 9-12
January choreo weekend #3 is for only groups or productions that need the work and will be moved January 20-21-22, 2023
I'm still working on email responses to some questions re contracts, comps, and solo scheduling requests, I will answer all questions as soon as possible- there are many. Please do not keep contacting the teaching staff regarding these requests, they are working on group choreo and music currently and will get to solos next week after our first choreo weekend. Thank you in advance for your patience and understanding as the staff needs time to prepare without interruption.
Tonight during team production, students will continue bonding and will meet and learn about their buddies and be measured for costumes. Choreo for the production will begin next week during class.
Sheri Daknis
TDC Studio Director
---
Choreography fees for Weekend # 1 were posted to your accounts tonight. These fees are due on or before Friday, September 23, 2022. If you have any questions, please call 732-349-1140 or email [email protected]
---
Attached are 4 important items for competition.
1- Competition contract Fri due 9/23/22
2-Competition Choreo weekend #1 A- 9/25 & 9/26 (Minis, Jrs, Tns, & Pre-teens) and B- 10/15 & 10/16 (Tns & Srs)- November 18-19-20 Choreo #2 (all levels) schedule will be late next week
3- Calendar of important dates Full season Sept to August- contains all comps and fee due dates costumes and comps, National practice time frame, audition dates and camp next season
4- Solo, duet and trio registration form for each comp due Fri 9/23/22
Solo, duet and trio schedules are being worked on currently and we will be in touch with you all over the next 2 weeks to set up practice schedules with the bulk of practices to complete being in October on Fridays, Saturdays and Sundays and during NJEA week. I have had some unexpected personal family issues which have prevented me from getting all this to you any sooner. I apologize for the delay and thank you all in advance for your understanding and patience while I get us all back on track and your essential year in full through camp next August to you so you can plan your life outside of dance.
Our first PODS fundraising meeting will be this Monday, Sept 19, 2022 at 830pm at TDC in studio 2- I encourage you all to attend to see what fundraising options are available to defray competition costs. I will be available in person to answer general questions from 815-9pm re contract and competitions- this is for general questions only and not for specific personal conflicts- please email me if you have specific issues to address.
Looking forward to the start of an amazing season 41!!! Thank you all for choosing TDC as your dance family.
Sheri Daknis, TDC Studio Director
---