Hello Team TDC!
Attached is the final schedule & overall outline for Starpower Competition 4/21-4/23 at the Stafford Township Arts Center (STAC) 1000 McKinley Ave, Manahawkin, NJ 08050.
All routines should be there 3 hours prior to performance time or when doors open (if an early morning routine) ready to dance.
All team students must be present at the Sunday 5:30pm awards. 
Sunday 10:30pm awards anyone 12 & older should be present if soloist or duet for Power Pak selections, Photogenic awards, Overalls & Title announcements
See below for dance bug information & photogenic information.
Looking forward to another awesome competition experience!
This email contains your schedule information only.  You will receive a separate email within 5 days of your scheduled event with detailed information regarding Star Dance Alliance policies and protocols. This email will also include detailed information pertaining to spectators and venue restrictions that are specific to your event.

The Overview Schedule is attached to this email.  This schedule will be available for your families on the Schedule Page of our website at approximately 2PM Eastern Time on Tuesday. This schedule lists the time that the doors will open each day along with the start time and finish time for each session.

**Performance Order** –  The scheduling system has resolved costume change conflicts as best as possible. Please be courteous and keep in mind that the competition runs in numerical order. Every performer has a minimum of 12 minutes scheduled in between their routines. Routines are expected to perform on time and anyone holding up the competition for any reason will be subject to point deductions or disqualification.

The first 10 routines of the day should arrive at the venue dressed in their costume and ready to perform. All routines performing in the afternoon and evening sessions should be dressed and ready at least 3 hours prior to their scheduled performance time.​ Please note: Listed performance and awards times are estimated and the competition may run up to one hour ahead of schedule.

**DanceBUG App**  Starpower is featured on the DanceBUG App!  You and your families can download the DanceBUG App to watch the Live Stream, view the full schedule, photos, videos, and the live schedule to see what entry is currently on stage and what's on next. Don't forget to have your dancers register for the DanceBug Media Pass!

If you wish to enter the Photogenic contest, you may do so at the Starpower Registration Desk when you arrive at the venue. Please make your parents and students aware of this. Photogenic pictures must be picked up from the Registration Desk immediately following the photogenic awards ceremony.

Also, a friendly reminder that for the safety of your students, photography and video recording of any kind is not permitted. Please pass this information along to your parents, families, and students.

If you have any further questions, please don't hesitate to ask. Thank you for your support of Starpower and the Star Dance Alliance… Have a great time at the show!

Kind regards,

Starpower National Talent Competition
Team Dress Rehearsal & Showcase March 11 & 12!
Attached is the competition showcase and dress rehearsal schedule for March 11 and 12, 2023. Please note the assigned dressing rooms by age level which may be different from Saturday to Sunday in some age levels due to regular Saturday morning classes. Dressing rooms for pictures are the same as those assigned for Sunday showcase. Students are welcome to leave their costumes overnight from Saturday to Sunday.  Dress rehearsals and pictures are closed to parents viewing but you may help students get changed if necessary in their assigned dressing rooms- one caregiver per student only permitted- we will also have TDC teaching staff available in all dressing rooms to assist students as well. Showcase is the time for you all to see their routines. Videotaping is permitted but please DO NOT POST any videos from showcase on social media or block others view when you are filming. 
The COMBINED FEE for dress rehearsal and showcase admission for 2 parents or family members per student to attend the group routine showcase is $40 per student- this fee will be added to your accounts by Monday evening. If you are in the solo and duet/trio showcase as well it's an additional $15 per participating student. Families who have more than one competing student may bring 2 people per student for showcase as you are paying per student pricing.
Mandatory competition parent meeting- Monday, March 6 from 830-915pm. We will answer parent questions re competition, rehearsal as well as demonstrating hair and makeup the last 15 minutes.
 Friday March 10 will be solo showcase dress rehearsal from 430-830pm in Studio 1– student will perform in the order of the showcase.  I will be there to offer feedback and will create a time schedule for students to arrive 30 minutes prior to their dance time in case they do not want to stay the whole time- routines will be about 6 minutes apart to allow dance to be done twice and offer corrections.
 I'm finishing up the hair and make up email by tomorrow night which will have class specifics, pictures and links. I have purchased earrings for the team and embroidery thread (white for team production and brown for Teen MT) with plastic needles enough for each competition – $20 per female dancer/ $5 per male dancer will be added to your accounts by Monday night to cover these costs. The gold Hoop Earrings with rhinestones are only 17mm (0.75in diameter) – image will be included in make up email- they are much smaller than last years earrings. I have also purchased the clip earring converters and clip ear cushions if needed for an additional $7 each– they will be available at the front desk starting on Wednesday this week. The earrings and wig sewing supplies will all be given out at team production this coming Wednesday. Acro students and musical theater students playing male roles will NOT wear earrings for those dances. Preteen/Teen ballet Co will be wearing 15mm rhinestone and clear crystal stud earrings- same as we have use in the past.
As you know the wine and wiggles fundraiser on Friday March 3 from 8-10pm is $20 per person and will be used to fund the wigs and sunglasses that came with team production. Please share this event and invite friends to join as the cost of these items was $35 per student additionally and not included in the raw costume price.
For those who want to get ahead with make up colors- all students will need MAC brand Russian red (matte lipstick) and cream in your coffee (cremesheen lipstick) found at any MAC, macys or Ulta store and on line from these stores as well. For cheeks, neutral colors – rose, coral, or bronze and for eyes, smokey neutral eyes- tans, browns, and creames- any brand. False eye lashes.
Hair will be double dutch (outside french braids) to a flat braided bun for dress rehearsal- there will be no time to change styles. I will decide with each competition schedule if their is time to change bottom part of the dutch braids from a bun to long braids or ponytails.
Looking forward to revealing all of our hard work at showcase!
Sheri Daknis, TDC Studio Director
Team Picture Day Order Link & Schedule
Hello everyone!
Competition Team photos will be taken on Sunday March 12th. The schedule is attached as a pdf file for printing and here is the link to purchase the photo packages (and also includes the schedule): https://form.jotform.com/dsmphotos/the-dance-centre-comp-team-2023
The link to purchase photo packages closes at 3:00pm on Saturday March 11th.
Remember: One order form per individual package, however you can purchase up to 7 class pictures on a single form.
1-Royal dance competition reached out to me yesterday with this email changing their venue for our March 24-26, 2023 from pine hill to Philadelphia. 
Hello:

We're excited to host you this year in Southern New Jersey the weekend of March 24-26. Unfortunately, Overbrook High School (our venue for the event) told us that their Spring Musical was pushed back and their venue was no longer available for the weekend of our event.

None of the schools in the immediate area were available either, so we have moved this event to the Pennsylvania Convention Center-Philadelphia, 1101 Arch Street, Philadelphia PA 19107.

The good news is that the space is huge and provides lots of room for competition, spectators, dressing, prop storage, etc. Plus, there are multiple eating and coffee options on site and on the same block. If you are bringing a prop truck, please let me know and I'll coordinate dropoff times and truck/trailer parking.

We've reserved a block of hotel rooms at the Aloft Philadelphia Downtown, 101 North Broad Street, Philadelphia, Pennsylvania, USA, 19107, 215-607-2020. This hotel is attached to the Convention Center at the end of the venue where we will be located. As soon as we are sent a link, this will be posted on the website. But parents can call to reserve under "The Royal Dance Competition" block.

There are numerous other hotels nearby — the Aloft was just the most convenient.

We apologize for this change, but unfortunately it is out of our control. If you have any questions, please let us know.

Thank you,

—

Lydia Wright

The Royal Dance Competition

2- National dates to keep available are June 26 through July 2, 2023. As soon as you know your graduation dates for June, please let me know asap so i can start to work on our practice schedule- 2 mandatory evening practices.

3- True Talent optional solo/duet trio competition is a definite for May 5-7 sicklerville/voorhees. We will unfortunately NOT be doing the May 12-13 date. If you need to change your response to be added or to be removed from this optional competition base on this info please email me.
Choreography fees for choreo. weekend # 3 ( Saturday , Jan . 21, 2023 and Sunday, Jan 22, 2023 ) were put on your accounts tonight. The will be due by Friday, January 20, 2023.
Attached is the practice schedule of routines that will be attending choreo weekend on January 21 & 22.
If your class is not on the schedule, it does not need extra practice.
All acro groups are practicing both days.
For team production please read carefully- there is 545-715pm Sunday where all ages are together than 3 other practice times before and after depending on your age level- if you are in parts in two different age levels you must come to both extra practices. Minis are only coming with the full group for 545-715pm. Oliver has a practice time of 4-430 alone to work on his individual part.
We have some exciting master classes opportunities coming up as follows.
Skoog will be having 2 contemporary master classes this Saturday January 10 ($40 per class)
2-330pm- ages 8-11
330-5pm- ages 12 and up
Miles Keeney will be doing jazz funk master classes on Friday February 10, 2022 ($40 per class)
430-530pm- ages 6-8
530-630pm- ages 9-11
630-730pm- age 12 and up
These master classes will be added into our guest instructor schedule later this evening to register for on line- you may also register at the front desk. Skoog's schedule for those who signed up for solo/duet critiques will also go out later tonight.
Sheri Daknis, TDC Studio Director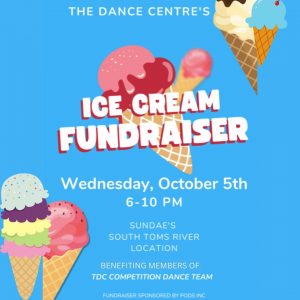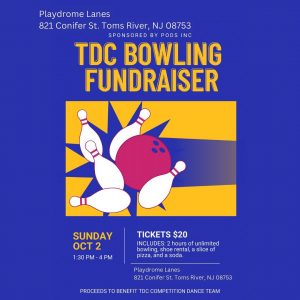 PODS has put together 2 fun & tasty fundraising events to help our Competition Team! We'd love to see you there!
Tickets for bowling can be purchased in the studio lobby Wednesday 9/21 6:00-7:30pm or email podsinc.th[email protected] to make other arrangements. Hope to see you there!
.
Here is a list of the competition and convention fees, mandatory and optional, with due dates for the 2022-2023 season.
Reminder competition contracts are due this Friday 9/23/22.
Solo contracts are required  with $150 choreo fee before your first practice can begin. Schedules will start to go out late next week.
Liability waivers as of aug 1, 2022 required for the new season.
Choreo weekend changes:

Times typed wrong
Pet lyrical should be Sun 1015-1045
JR hip hop should be Sat 4-530pm
Acro JR/Pre-teen will be Sunday 8-11 instead of 9-12
January choreo weekend #3 is for only groups or productions that need the work and will be moved January 20-21-22, 2023
I'm still working on email responses to some questions re contracts, comps, and solo scheduling requests, I will answer all questions as soon as possible- there are many. Please do not keep contacting the teaching staff regarding these requests, they are working on group choreo and music currently and will get to solos next week after our first choreo weekend. Thank you in advance for your patience and understanding as the staff needs time to prepare without interruption.
Tonight during team production, students will continue bonding and will meet and learn about their buddies and be measured for costumes. Choreo for the production will begin next week during class.
Sheri Daknis
TDC Studio Director
---
Choreography fees for Weekend # 1 were posted to your accounts tonight. These fees are due on or before Friday, September 23, 2022. If you have any questions, please call 732-349-1140 or email [email protected].
---
Attached are 4 important items for competition.
1- Competition contract Fri due 9/23/22
2-Competition Choreo weekend #1 A- 9/25 & 9/26 (Minis, Jrs, Tns, & Pre-teens) and B- 10/15 & 10/16 (Tns & Srs)- November 18-19-20 Choreo #2 (all levels) schedule will be late next week
3- Calendar of important dates Full season Sept to August- contains all comps and fee due dates costumes and comps, National practice time frame, audition dates and camp next season
4- Solo, duet and trio registration form for each comp due Fri 9/23/22
Solo, duet and trio schedules are being worked on currently and we will be in touch with you all over the next 2 weeks to set up practice schedules with the bulk of practices to complete being in October on Fridays, Saturdays and Sundays and during NJEA week. I have had some unexpected personal family issues which have prevented me from getting all this to you any sooner. I apologize for the delay and thank you all in advance for your understanding and patience while I get us all back on track and your essential year in full through camp next August to you so you can plan your life outside of dance.
Our first PODS fundraising meeting will be this Monday, Sept 19, 2022 at 830pm at TDC in studio 2- I encourage you all to attend to see what fundraising options are available to defray competition costs. I will be available in person to answer general questions from 815-9pm re contract and competitions- this is for general questions only and not for specific personal conflicts- please email me if you have specific issues to address.
Looking forward to the start of an amazing season 41!!! Thank you all for choosing TDC as your dance family.
Sheri Daknis, TDC Studio Director
---